Your Z-Coach,  Motivational Speaker, Author
Access a free copy of, "5 Proven Strategies to Better Connect With Your Students"
Nick Zizi is the speaker you want for your upcoming meeting or conference!
5 Reasons to Book Nick Zizi
Work With Nick
Youth expert, radio personality and author
Nick Zizi is a youth motivation expert. If you need a speaker for your upcoming event, Nick Zizi is the one to book. His audiences include middle school and high school students, universities, and groups of educators and parents. His services are great for school assemblies, conferences, workshops, breakout sessions or any event where a speaker is needed.
If you are interested and would like to learn more, we'd be happy to schedule a time for you to talk with Nick. He has been a featured expert on the Tom Joyner Morning Show, HOT 105 FM and various media outlets and magazines. Submit your request today!
Reviews

"Nick is electrifying, insightful and he's genuine. He speaks from the audience's point of view. He brings out the greatness that is within them. I highly recommend Nick."
Les BrownWorld Renowned Motivational Speaker

"Nick Zizi did an outstanding job! He captivated the audience from the very beginning and all way to the end of his talk. He tailored his message to fit the needs of the audience as well as the objectives of the conference organizers. I highly recommend Nick Zizi for your next event!"
Dr. Ischaji RobertsonPsychologist / Teen Court / MDEAT
"Nick Zizi reinforced the what we teach in a fun and memorable way through the Unleash Your Zebra presentation. Our students were so moved that many of them wrote letters expressing their gratitude and what they plan on changing as a result of hearing Nick Zizi's message. I highly recommend Nick Zizi to any school."

Ms. DeeEtte Naukana Principal
Creating More Possiblitiez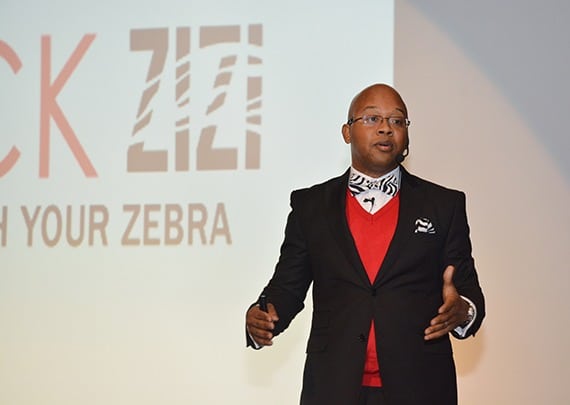 Scholarship Foundation
Nick Zizi Foundation
NICK ZIZI FOUNDATION
Nick Zizi is president and founder of Nick Zizi Enterprises. He was born and raised in Miami-Dade County, and is the product of the public school system. Growing up, Nick's parents instilled the value of a college education and insisted early on that it was the gateway to a promising future. Upon completing high school, Nick was faced with many obstacles to getting into college, the first being the high cost of secondary education. Nick struggled to get through school, had to pay much of his tuition and fees out of pocket. It was at that time that Nick made a conscious decision that if he became successful in life, he would pave the way for others who strive to better their lives as well. As a business professional, Nick understands the concept of hard work and the importance of giving back.
In establishing the Nick Zizi Foundation, Nick hopes to alleviate the burdens of increasingly high costs of college expenses by making a contribution to the efforts of a college bound student. To be eligible for the Nick Zizi Scholarship Foundation, a candidate must comply with all of the requirements noted in the application form.